FIRE HYDRANT MANIFOLD FOR FIREFIGHTING EQUIPMENT (UPT)
TU 4854-032-72410778-2015
General
Purpose and scope
The fire hydrant manifold for firefighting equipment (UPT) is used to supply (withdraw) water or a foam concentrate solution in fire extinguishing installations or to equip the supply pipelines of stationary fire extinguishing means (fire monitors, hydraulic monitors, foam generators, etc.).
As a rule, the use of the fire hydrant manifold implyes the connection of fire hose lines and the supply of water through them from mobile firefighting equipment to a fire extinguishing installation or the withdrawal of the foam concentrate premix from a foam fire extinguishing installation and its supply using manual, transportable, mobile foam or universal fire nozzles or foam generators to fire or accident scene.
In terms of resistance to climatic effects, UPT corresponds to the U, HL, UHL, T, OM modifications according to GOST 15150-69.
Ambient temperature range: from minus 60 ºС to plus 50 ºС.
Distinctive advantages
factory manufacturing;
equipment with manometers and a drain cock;
built-in bases for supports;
use of stop valves and GM connecting fire heads of high quality.
Modifications
modif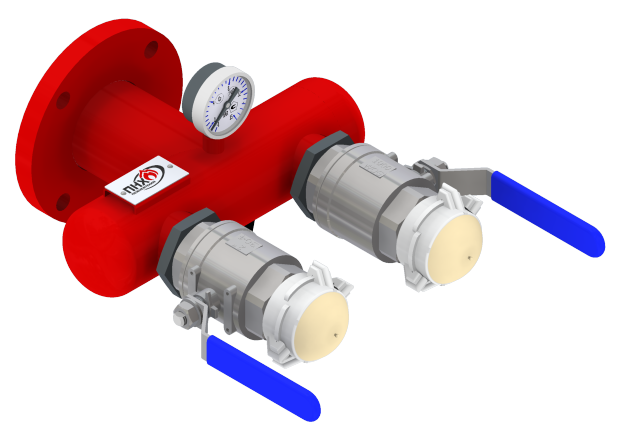 UPT designed for two GM-50/GM-80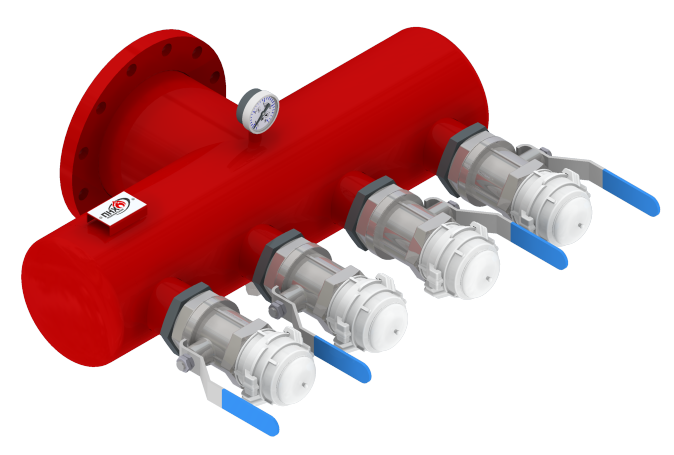 UPT designed for four GM-50/GM-80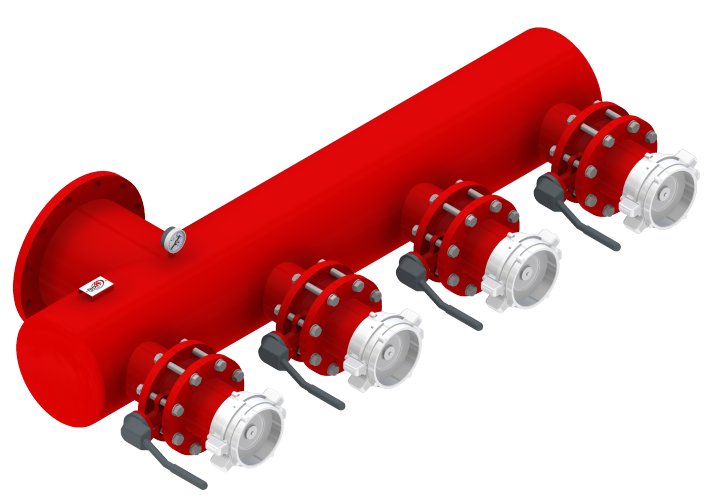 UPT designed for four GM-150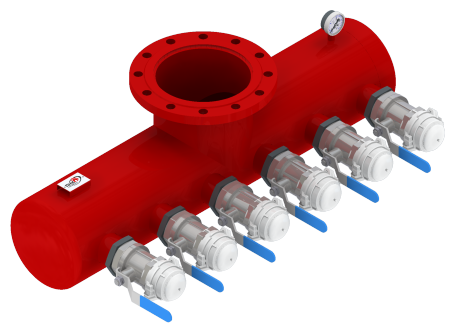 UPT designed for six GM-80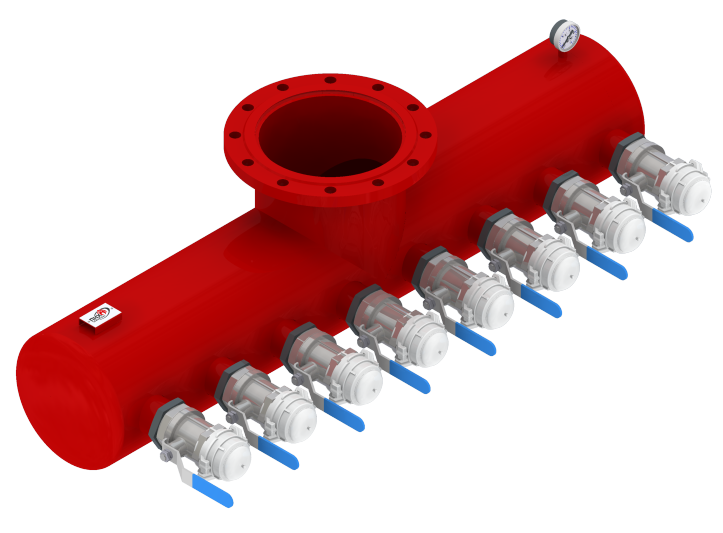 UPT designed for eight GM-80
Specifications
props
Materials of manufacture
Climatic modification U: steel 20 with anti-corrosion coating.
Climatic modification HL, UHL: steel 09G2S with anti-corrosion coating.
Climatic modification T, OM for operation on sea water: stainless steel.
Climatic modifications U, HL, UHL on request can be made of stainless steel.
Key Specifications
Indicator name
Indicator value
for GM-50
for GM-80
for GM-150
Nominal pressure, MPa
1,6
Test pressure, MPa
2,4
Estimated throughput per branch pipe (taking into account hydraulic losses in hose lines), l/s
5
10
35
Type of stop valves used to complete UPT
ball full-way valve
butterfly valve
Mounting flange dimensions
| | |
| --- | --- |
| UPT type | Mounting flange type |
| UPT for two GM-50 | Flange 80-16-01-1 GOST 33259-2015 |
| UPT for two GM-80 | Flange 100-16-01-1 GOST 33259-2015 |
| UPT for two GM-150 | Flange 200-16-01-1 GOST 33259-2015 |
| UPT for four GM-50 | Flange 100-16-01-1 GOST 33259-2015 |
| UPT for four GM-80 | Flange 150-16-01-1 GOST 33259-2015 |
| UPT for four GM-150 | Flange 250-16-01-1 GOST 33259-2015 |
| UPT for six GM-80 | Flange 250-16-01-1 GOST 33259-2015 |
| UPT for eight GM-80 | Flange 250-16-01-1 GOST 33259-2015 |
Для просмотра полного описания технических характеристик отправьте заявку или войдите под своим профилем
---
IF YOU HAVE QUESTIONS Or PROPOSALS, PLEASE FILL IN OUR FORM