Pozhneftehim testing site and quality control
PROBLEM
The foam fire extinguishing systems and installations at sites are usually assembled from components of different manufacturers, and a separate company is responsible for projecting the system. As a result, there are frequent problems with the effectiveness and efficiency of the system, the cause of which may be separate elements or incorrect interpretation of regulatory documentation.
SOLUTION
One supplier who will be responsible for the quality of all elements of the foam fire extinguishing system and its performance upon installation at the site. Pozhneftehim, a Russian manufacturer of firefighting equipment and foam concentrates, developer of design solutions for industrial sites, guarantees high quality of the system and its elements if delivered as integrated supply.
Testing and quality control of firefighting products
Control over Pozhneftehim production of firefighting products is carried out in accordance with the requirements of GOST ISO 9001-2011 (9001-2008). This is confirmed by the Certificate of the Federal Agency for Technical Regulation and Metrology No. MSK.OS1.A0640 dated 06.10.2015.
Pozhneftehim fire fighting equipment conformity assessment is carried out on a certified hydraulic testing site. It is used not only to test the performance of integrated foam fire extinguishing systems, but also for Pozhneftehim's own R & D.
Pozhneftehim test stand was developed and upgraded in 2007-2013. The stand was granted a Certificate "State Regional Center for Standardization, Metrology and Testing in the Nizhny Novgorod Region" No 4601/1600-17 dated 07/14/2017.
Testing site (stand) for firefighting equipment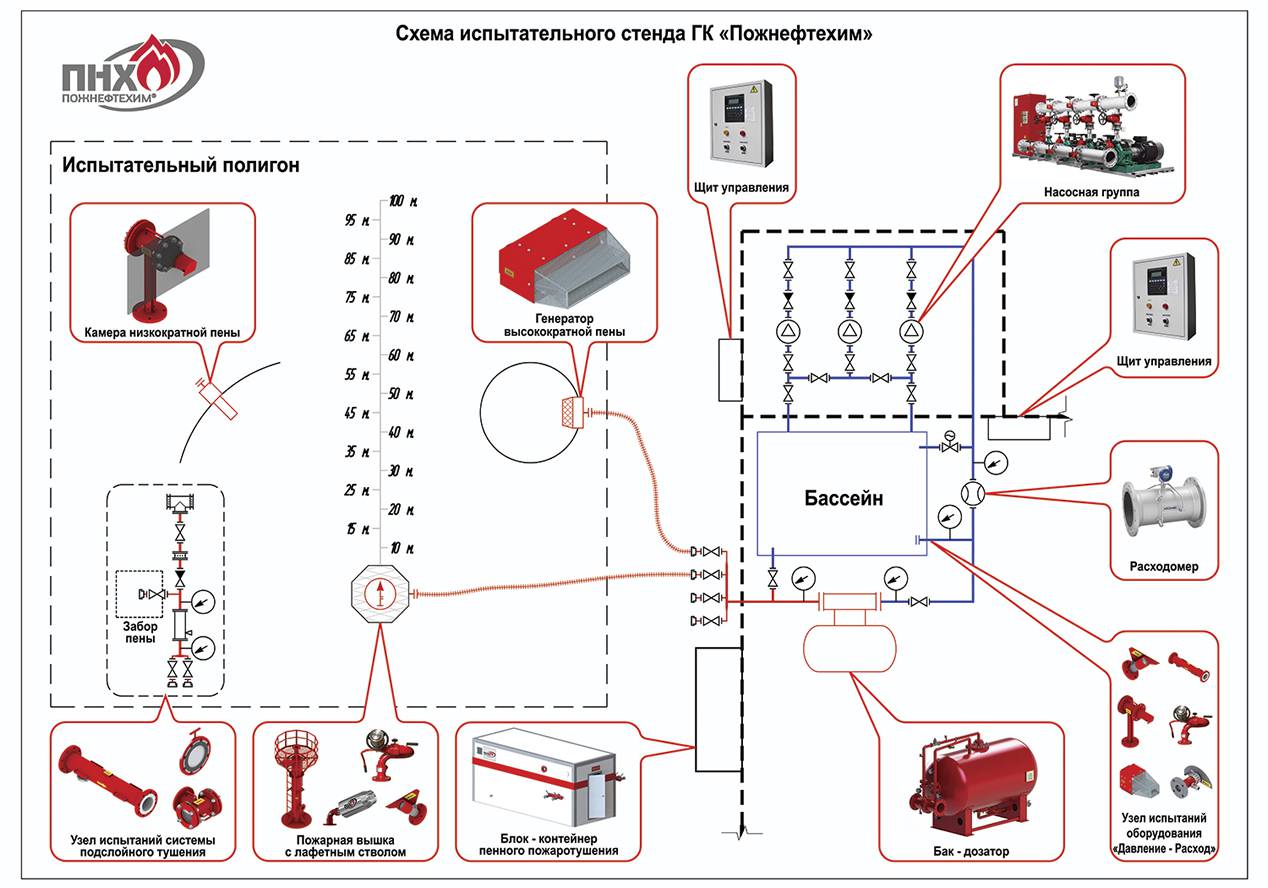 Using the stand, both Pozhneftehim and partners can conduct tests and verification of compliance of the following groups of firefighting products:
foam generators;
fire monitors;
water-foam nozzles;
water curtain nozzles;
block-containers for foam firefighting;
foam concentrate dosing devices of various types, including: dosing tanks, ejector dosing units, turbine axial dosing units, balancing dosing units, pressure fire dosing units;
other firefighting equipment, which operation depends on water supply, solution of foam concentrate and foam.
Go to the Pozhneftehim product catalogue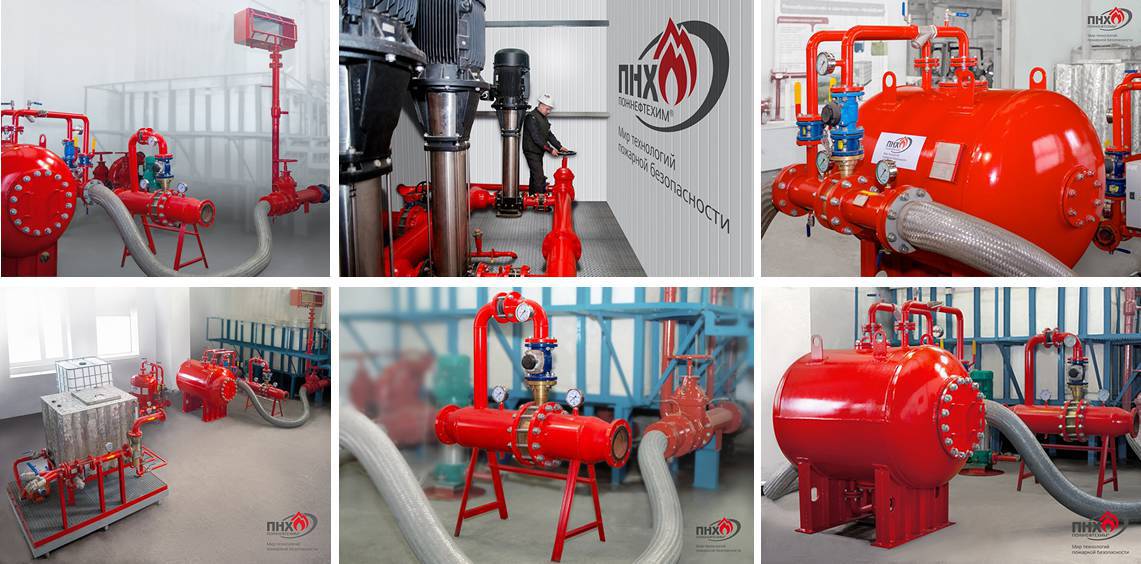 Testing of integrated fire extinguishing systems
Pozhneftehim carries out a preliminary check of performance of complex foam fire extinguishing systems (each element separately and their joint operation). Customers who have chosen one of the Typical Design Solutions confidently pass the stage of acceptance tests at the site and receive a workable and easy-to-use foam fire extinguishing system.
The issue of certification of off-quality fire fighting equipment is so acute today that this topic was raised at the 2018 Security Technologies Forum. Few companies on the market, suppliers of various products in the field of fire safety, are able to take responsibility for the performance of the entire fire extinguishing system at industrial or production site.
The Pozhneftehim's advantage is its complexity. We know how to make fire protection systems for hazardous and technologically difficult sites. The company has been manufacturing its own fire fighting equipment since 2004 and has been working in the designing of fire extinguishing systems since 2006. We help customers with integrated systems at all stages of work, so the acceptance testing phase passes without problems, and the questions of the operating services quickly find competent solutions.
IF YOU HAVE QUESTIONS Or PROPOSALS, PLEASE FILL IN OUR FORM