AUTOMATED RAILCAR ON-SPOT LOADING STATIONS AND FACILITIES. FIRE PROTECTION, FIRE EXTINGUISHING SYSTEMS
The automated on-spot loading station (AUTN) is an automated technological facility for filling rail car tanks with liquid hydrocarbons in on-spot mode with movement of tanks for filling by a special shunting device which is an integral part of installation.
With due consideration of fire hazard and the regulatory framework, Pozhneftehim offers highly effective automatic fire extinguishing systems for fire protection of on-spot loading facilities. We recommend an automatic fire extinguishing system with a low-expansion filmforming foam from AFFF or AFFF/AR foam concentrate) and a stationary system with foam fire cabinets of the ShPP type. The foam fire extinguishing technology is supplemented by a water-cooling system with fire monitor complexes for load-bearing structures and floors.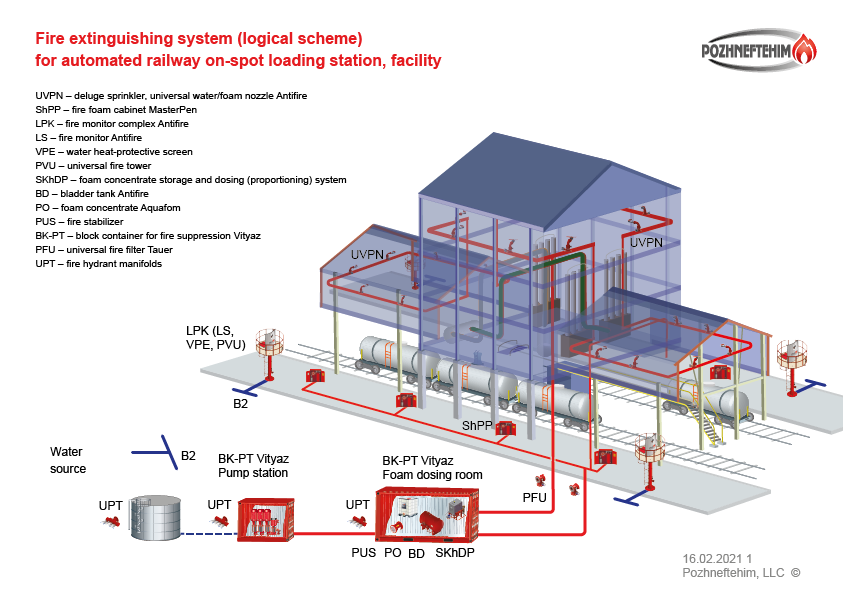 Choose your fire extinguishing system
Fire hazards of automated on-spot loading facilities
The on-spot loading unit is designed for hermetically safe filling of petroleum products into railway tanks with the utilization of hydrocarbon vapors displaced from the tanks during filling.
An uncontrolled fire on a railway equipped with the on-spot loading station can lead to the complete destruction of the object. The risk of fire may arise if any of safety systems function incorrectly (i.e., systems preventing spontaneous movement of devices, filling of petroleum products above the norm or controlling vapors concentration in the filling zone).
"The most common causes of accidents on railway oil loading stations are seal failures of flanged connections, failure of shut-off valves and product leaks from pipelines and filling hoses."
"Practice has shown the possibility of unimpeded spreading of flammable liquids and gases and the high probability of explosions and fires on railway oil loading stations. It is possible to successfully eliminate accidents and localize such fires only with the use of highly efficient fire extinguishing systems that can detect the source of fire in the very initial stage without human intervention and eliminate the fire within a short period of time."
Quotes by: Seleznev S.V. "Fire protection of railcar loading stations" / S. V. Seleznev, R. M. Hakimov, N. M. Frolov, D. R. Baykov. — Text: Molodoy Ucheniy. — 2011. — No. 4 (27). — V. 1. — P. 52-53. — URL: https://moluch.ru/archive/27/2892/ (date of reference: 16.02.2021).
Taking into account the high fire danger of the facility, Pozhneftehim suggests protecting the on-spot loading stations with highly efficient foam fire extinguishing and water-cooling systems.
Normative analysis. Requirements for fire extinguishing systems at the on-spot loading facilities
In accordance with SP 155.13130.2014 Warehouses of oil and petroleum products. Fire safety requirements (with Change N 1):
for railway and automobile tanks in warehouses of categories I and II, the stationary fire extinguishing installations (non-automatic) should be provided.
when designing an automated railway on-spot loading station for light oil products, the automatic stationary gas extinguishing system (carbon dioxide, nitrogen or other neutral gas can be used) should be provided for the fire protection of tanks in the filling zone, with the fire extinguishing agent entering directly into the tank neck on the oil product layer with the hermetically sealed lid.
in warehouses of category I and II, stationary fire monitors should be provided for cooling railway tanks and loading devices on rail racks.
The UP AUTN-96 Guidelines for the design of automated installations for the on-spot loading of light petroleum products in railway and automobile tanks (in addition to VUP SNE-87), water irrigation is recommended.
Foam and water fire extinguishing AUTN: justification of the technical proposal
Given the high fire risk of the on-spot loading facilities, the ambiguous requirements of the regulatory framework and various recommendations, Pozhneftehim, in addition to the gas extinguishing system inside the refillable tank that is included in the delivery package, offers for these objects:
automatic or automated fire extinguishing system with filmforming low-expansion AFFF or AFFF/AR foam);
a stationary system with foam fire cabinets of the ShPP type.
The fire extinguishing system with a low-expansion filmforming foam provides intensive fire extinguishing over the entire area of the on-spot loading station and at the same time effectively cools railway tanks, technological equipment and pipelines.
The stationary system with ShPP foam fire cabinets enables the extinguishing of local fires, coverage of oil spills with an insulating layer in case of emergency leaks, as well as extinguishing in hard-to-reach areas.
In addition to the foam fire extinguishing technology, the water-cooling of load-bearing structures and floors by fire monitor complex systems (LPK) should be used.
Deluge sprinkler UVPN Antifire functioning (demonstration)
Fire monitor complex (LPK) functioning (demonstration)
Additional information
More info on firefighting of storage areas for oil and petroleum products is available here
More info on firefighting of railcar loading racks is available here