15.12.2017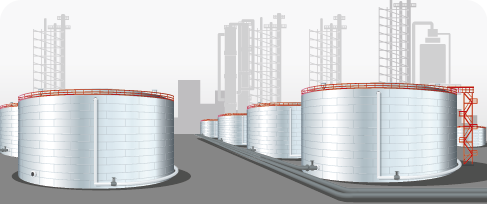 Water cooling is an indispensable element of the integrated firefighting system of the tank farm. Stationary installations and mobile firefighting equipment are used for water cooling of tanks. According to SP 155.13130.2014 "Warehouses for oil and oil products", the estimated duration of cooling of the ignited and neighboring tanks (ground based) is 4 and 6 hours, respectively.
What a water cooling installation is used for
Read more on the topic: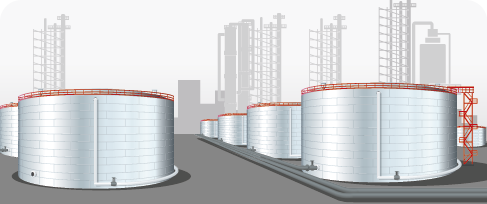 Fire safety of tank farms
In the event of a fire in a steel tank with an oil product, its walls quickly heat up to a temperature of at least 700 °C. The use of low expansion foam and Vega KNP foam generators with a soft fan-shaped method of applying working solution of the foam concentrate inside the tank helps cooling the walls in the zones of foam application. To cool the walls around the perimeter under the norms, spraying rings (half rings, sections) are needed.
The main risk in eliminating fires is re-ignition. Its cause may be spontaneous combustion of a combustible liquid from the high temperature of the tank itself. Therefore, the standards provide for the backup use of foam fire extinguishing, and mandatory water cooling. The facility should contain a supply of water and a foam concentrate for the preparation of as much as three volumes of the foam concentrate premix for one fire. 
Water cooling of the tank farm can be provided with:
A stationary cooling installation, which consists of a spraying ring pipe with devices for spraying water in the upper zone of the tank. The ring can be divided into sections connected by water supply pipelines to the fire water supply network.
Mobile fire extinguishing means is a mobile firefighting equipment. It supplies water for spraying of the tank using portable fire monitors. Water to fire monitors is delivered through fire hoses by fire engines installed on fire hydrants or ponds. 
Water cooling standards for tank farms
The burning tank should be cooled along the entire circumference of its wall. If there is a risk of fire spreading to neighboring tanks, they should be cooled along the length of the semicircle or a quartercircle facing the burning tank.
According to SP 155.13130, the normative intensity of cooling water application should be taken with the following values:
Table 13. Regulatory intensities of cooling water application
Tank cooling system
Water supply rate, l/s, per meter of perimeter
of the burning tank
semicircle of neibouring tank
Stationary cooling installation for tanks with a wall height, m:
- more than 12;
0,75
0,30
- 12 and less for floating roof tanks
0,50
0,20
Mobile extinguishing units
0,80
0,30
Cooling of ground based tanks with a volume of less than 5000 m3 is allowed with mobile fire extinguishing units.
When designing water cooling units, it is necessary to provide technical solutions for:
-  flushing of pipelines, including spraying rings, during operation life;
- devices for draining water from dry pipes of cooling unit after completion of work;
- conducting tests with measuring pressure at the level of spraying rings;
- protection against clogging with Tauer universal fire filters.
It is recommended that the supply pipelines for the tank water cooling installation are equipped with fire hydrant manifolds (UPT) for use at low pressure in the main water supply.
Other news