07.12.2017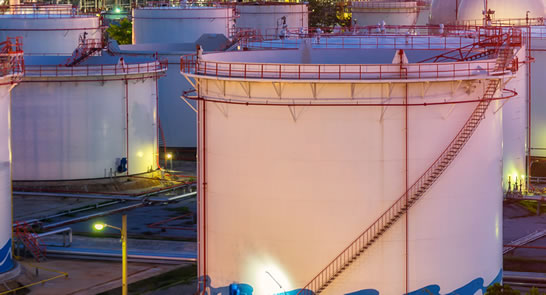 There is no reliable statistics on fires in tank farms. If a foam fire extinguishing installation quickly extinguishes a fire in a tank, the information about this event does not get into media and statistics. Isolated cases when a tank caught fire and the system failed immediately, attract the public interest. In this case, firefighting equipment is involved, and fire extinguishign turns into a dangerous job.
Causes of ignition of oil product in a tank
Compliance with regulations and industrial safety standards is strictly controlled on production projects. Employees of the facility are required to undergo regular training,and contracting organizations undergo mandatory briefings. However, fires do happen.
The main cause of fires in tanks is non-compliance with safety regulations. For example, violation of the operating rules for vehicles, use of open flame near hazardous objects (welding, firing, smoking).
Other possible causes of fire in the oil product tank farm:
Faulty sealing of structural elements: flanges, valves and fittings;
Oil product overflow in case of failure of the level control system;
Impregnation of thermal insulation on pipelines with flammable and combustible liquids;
Static or atmospheric electricity (lightning, spark of static electricity).
Read more on the topic: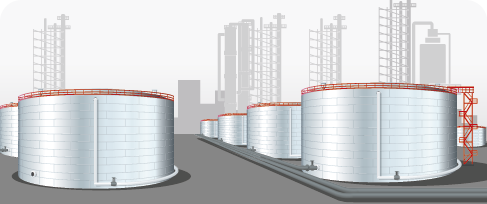 Fire safety of tank farms
A fire spreading depends on type and design of a tank and presence in the immediate vicinity of other tanks with petroleum products. The tanks may be of metal, reinforced concrete, or of synthetic materials. As for the tank type, there are vertical, horizontal and isometric tanks. Steel vertical tanks (RVS) are common in Russia.
The firefighting system necessarily includes a proportioner, a container for foam concentrate, a pumping unit and pipelines for supplying water and a foam working solution. Contact the Pozhneftehim, and you can get a typical design solution for tank farm protection with a description of the fire equipment operation system and the foam concentrate preparation system.
RVS classification and extinguishing features
Steel tanks are divided according to hazard level into four classes, depending on the volume of stored combustible liquid:
| | |
| --- | --- |
| 1 class | more than 50 ths sq. m |
| 2 class | volume of 20 to 50 ths sq. m |
| 3 class | volume of 1 to 20 ths sq.m |
| 4 class | volume up to 1 ths sq. m |
An important factor in designing tank farm firefighting system is the type of stored oil product. Flash points, evaporation and spontaneous combustion of the product and other physical and chemical properties are important. For example, warehouses with glycerin are generally less dangerous than tanks with kerosene or white spirit.
The fire safety system depends on the tanks design. Stationary and mobile fire extinguishing installations are required for fire protection of RVS with a fixed roof, with or without a pontoon. A foam application method and a foam concentrate type depend on the tank design features.
A mandatory element of any tank farm fire extinguishing system is water cooling. It is activated along the entire circumference of the wall of the burning tank and along the length of the semicircle of adjacent tanks facing the burning one.
A surface tank farm requires a fencing wall or a fire dike to limit oil spillage when the tank is damaged or ruptured. A road or fire passage perform the function of a fencing wall for underground tanks. A fire embankment will help reduce the fire area in the case of emergency.
When designing, purchasing and installing foam fire extinguishing systems, you can contact the Pozhneftehim for advice. It is a Russian manufacturer of fire equipment and foam concentrates with more than 10-year experience with fire safety systems for tank farms.
Other news