31.08.2018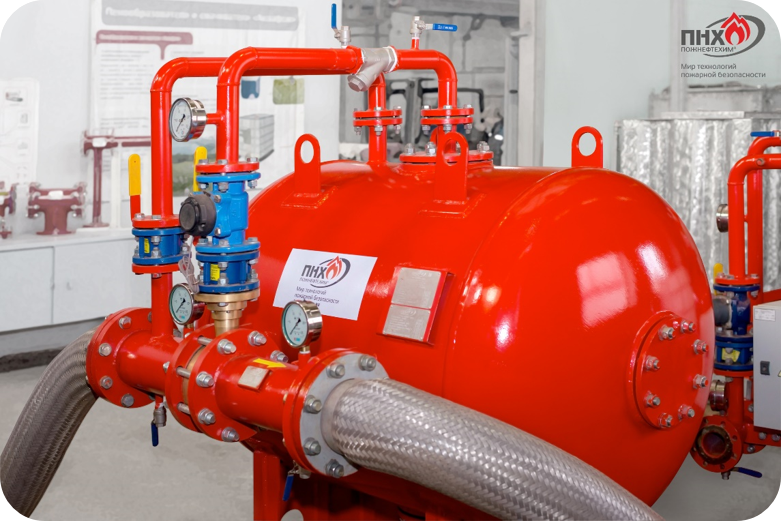 In August 2018, the control tests of the Antifire bladder tanks (BD) with expanded parameters for nominal inlet pressures and with 0.5% proportioning for wetting agents took place as part of the Pozhneftehim firefighting equipment certification project. The Antifire bladder tanks successfully passed the test and confirmed the manufacturer's specifications for pressure, flow rate and proportioning.
Control tests were carried out in the presence of specialists from the Academy of Fire Service (AGPS) of the EMERCOM of Russia, as well as the EMERCOM of Belarus. The test included a proportioning assessment at different water pressures upstream the proportioner and different flow parameters. The Pozhneftehim BDs have demonstrated stable operation and correct proportioning of foam concentrates at inlet pressure of 0.35 - 0.6 MPa and wetting agents with a volume concentration of 0.5%.
The Antifire bladder tanks have been produced by Pozhneftehim Group since 2010at the own production site in the Tula Region. The product is intended for foam fire extinguishing installations with foam concentrates (1%, 3% and 6%) and wetting agents (0.5% and 1%).
The Pozhneftehim bladder tank is a reliable proportioning system that can withstand excessive pressure when tested for leaks at 1.4 MPa, tested for mechanical strength at 2.0 MPa. The flexible bag of the Antifire bladder tank withstands a difference of external and internal pressure of at least 8 kPa, European tensile requirements, and is resistant to thermal aging and the effect of a foam concentrate. The strength of the flexible container is especially important since the container is easily damaged as a result of a violation of operating technology.
The tank, the proportioner and other structural elements are made taking account of characteristics of the applied foam concentrates. A wide range proportioner as a unit of the Pozhneftehim bladder tank is made of brass. The tank, piping, flanges can be made of stainless steel 12X18H10T or steel 09G2S with internal and external corrosion-resistant coating, depending on the customer's request.
The production documentation for the bladder tank contains developed requirements for anticorrosive internal and external coatings, including taken into account departmental regulatory documents of large oil companies.
The Antifire bladder tank is equipped with a ShABD automation cabinet and a set of instrumentation to meet the requirements for automated control of the level of foam concentrate in accordance with GOST R 50800, a refilling kit, a reserve flexible container, mating flanges.
The Pozhneftehim service department carries out the whole scope of accompanying works on installation supervision, commissioning and testing, including training of facility personnel or operating organizations' staff.
Other news