29.01.2021 13:25:00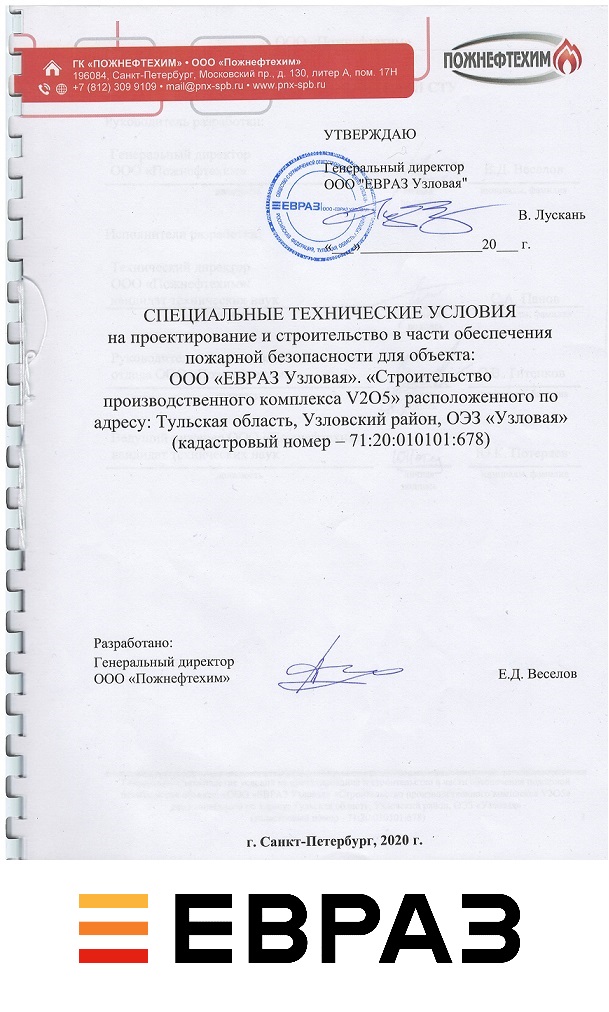 Pozhneftehim, the manufacturer of fire extinguishing systems and developer of design documentation for fire safety of industrial facilities, has prepared Special technical conditions for the EVRAZ facility in the Tula region. The STU has passed necessary approvals in state bodies.
The Special technical conditions are designed to ensure fire safety of the new production complex for deep processing of vanadium and ferrovanadium. The plant will be built in the special economic zone (SEZ) "Uzlovaya".
STU contains a list of additional and compensating measures to ensure fire safety. These are explanations for fire protection systems, outdoor fire extinguishing systems, automated fire alarm systems, warning systems and evacuation management in case of fire, as well as for automatic fire extinguishing installations and internal fire water supply.
"We appreciate that the management of EVRAZ, which is one of the top steel producers in the world, has chosen our company as a contractor for STU works. Our team took a highly responsible approach to the issues of ensuring fire safety of the new and promising industrial facility," said Sergey Titenkov, head of Technical norms department at Pozhneftehim.
The practice of developing Special technical conditions for the construction of new and reconstruction of existing industrial facilities is associated with the need to reduce risks of fire at technically complex and/or unique sites. The STU on fire safety is mandatory for all organizations that design, build and operate facilities.
More information on STU development is available here
More information on STU approval rules relevant since 2020 is available here
Other news