05.11.2020 14:04:00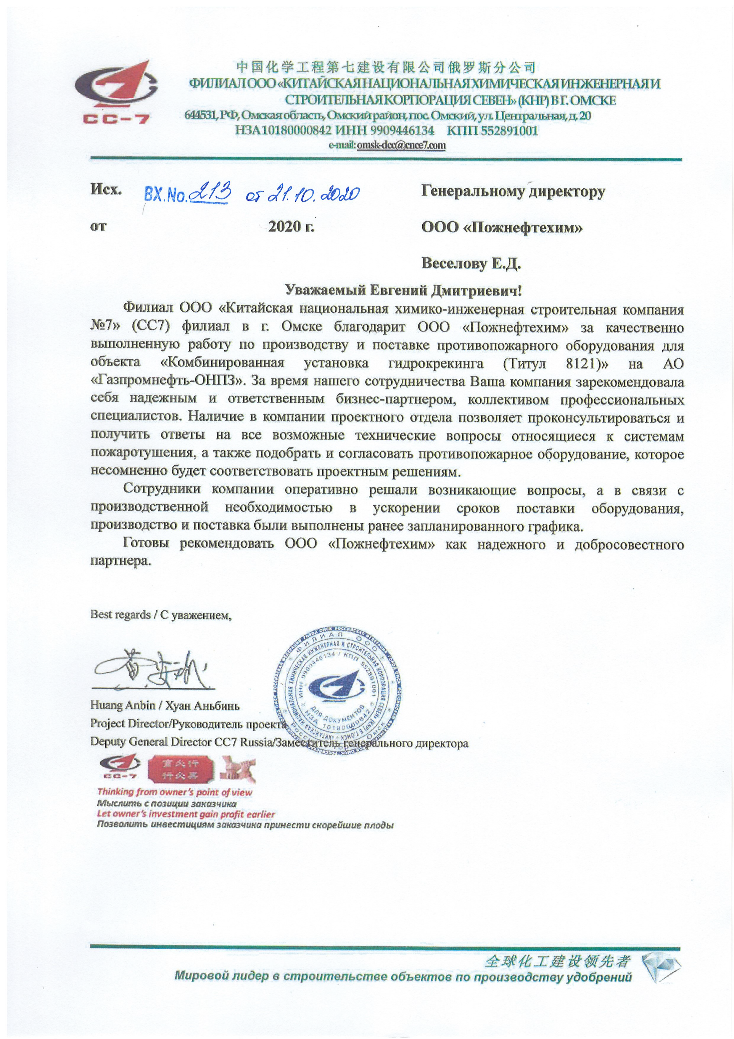 Pozhneftehim has received one more positive reference from customer. Specialists of the China National Chemical Engineering & Construction Corporation Seven, LTD, Branch in Omsk (СС-7), express gratitude to Pozhneftehim for supplies of the equipment package for the construction of a combined hydrocracking unit at AO "Gazpromneft-ONPZ".
According to the CC-7 reference note, the staff of Pozhneftehim "quickly responded to emerging issues and as the need to accelerate equipment delivery dates emerged, the shipment was arranged earlier than planned".
The Project manager of CC-7 Huang Anbin noted that the design department inside the Pozhneftehim business structure allows consulting in technical issues, selecting and approving firefighting equipment which will correspond to design solutions.
Pozhneftehim, the Russian manufacturer of equipment and foam concentrates for industrial fire extinguishing systems, regularly receives positive feedback and thanks for completed projects. The geography of the company's projects and deliveries has expanded significantly since the beginning of our work in 2004. All reverences of Pozhneftehim are available here https://www.pnx-spb.ru/en/about/otzyvy/
Other news