17.12.2019 10:25:00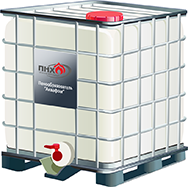 Pozhneftehim has been producing foam concentrates for firefighting under the Aquafom trademark since 2011. We supply both foam concentrates and complex foam fire extinguishing systems, including the foam concentrate.
Aquafom foam concentrates are manufactured at our own production site in the Moscow region (Ivanteyevka) and undergo quality checks for compliance with regulatory standards, as well as for compatibility with proportioners and foam generators of various types. Deliveries are made both directly to the final consumer, and through companies that are engaged in procurement and packaging for various objects.
Pozhneftehim informs customers purchasing Aquafom foam concentrates through other companies that you can check all the information about the received lot of foam concentrates and the package of accompanying documents with our specialists by phone +7 (495) 703-01-32 or by e-mail mail@pnx-spb.ru. If necessary, we provide duplicate documents.
The Pozhneftehim product line includes more than 180 formulations of S, AFFF, S/AR, AFFF/AR, WA foam concentrates, as well as foam concentrates with individual characteristics according to customer requirements, taking into account the type of fire load, water features and firefighting technology.
Other news